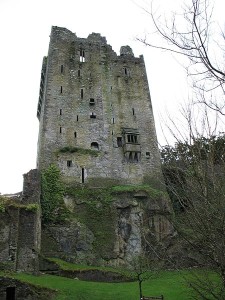 I was in the middle of a lengthy business trip to Ireland travelling around the country to make sales calls. Business travel can be a lonely experience especially when you are in a foreign country. After a week of moving from place to place and seeing very little of what Ireland had to offer the weekend had arrived and not being able to work I needed something to occupy my time. I was in the Cork area and made a brief search online for possible places to visit and discovered that I was just a few minutes from Blarney Castle. I knew nothing about this place other than that there was a stone you should kiss to receive the gift of eloquence.
The Weather
With visions of marching up to a stone on terra firma, kissing it and then taking a tour of the castle I arrived at Blarney in quite horrible weather. The miserable day did little to lift my spirits which were somewhat low due to working away from home. It was the kind of day when you wrap up in a thick jumper and a waterproof coat, not bask in the sunshine in a T shirt. The castle looked quite bleak and foreboding against the grey skies but I shrugged my shoulders, bought a ticket and set off on the tour.
The Castle
The castle dates from 1446 and was built by the Irish chieftain Cormac MacCarthy. It is now a partial ruin but there is enough intact to enable you to climb to the top which is where I discovered the fabled Blarney Stone was to be found. After walking up the many stairs I was looking forward to a quick peck on the stone which I thought would be easily accessible. You can imagine my horror when I realised that the stone was actually on the outer wall of the structure and that to kiss it you had to be dangled over the edge of the inner wall lying on your back whilst a guide holds on to your ankles!
Kissing The Stone
There was a line of visitors queuing up to kiss the stone and I joined it wondering what the hell I had been thinking of. Eventually my turn came and I assumed the correct position. Seconds later I was hanging over the precipice stretching to reach the stone which I did manage to kiss before being dragged back to safety. The whole experience was rather bizarre but I was glad that I did it even though the stone's magical powers have yet to take effect.
Do Your Homework
The gardens of the castle were rather attractive and worth exploring although the rain rather ruined that part of the tour and so wringing wet I beat a retreat back to the hotel. I vowed that I would never visit a tourist attraction again without doing my homework. It wasn't that it was a bad experience and I was in no danger but it is always nice to know when you are about to look completely ridiculous. I should mention at this point that my hotel was one of the best places I have ever stayed. If you visit Southern Ireland try the Blarney Golf Resort it is truly superb which the castle wasn't but you have to do these things don't you?
Byline
Article by Sally Stacey