During her life Princess Diana was one of the best loved and most influential people on the planet. 16 years after her tragic death there is still a great fascination with the popular Princess. She was a fashion icon and a celebrated champion of good causes and today her clothes still remain a major attraction and a means to raise valuable funds.
The Queen Mary
The legendary cruise ship the Queen Mary is hosting an exhibition of clothes, accessories and memorabilia associated with the princess and her family. The display is housed in the Sun Deck Gallery of the ship which is now a hotel and major tourist attraction in Long Beach, California. The exhibition is raising fund for the Pink Ribbon Crusade to fight breast cancer.
The Dresses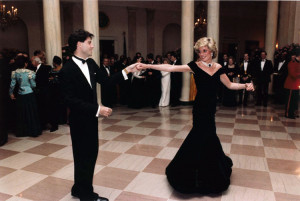 If you find yourself in the Long Beach area and have an interest in the Royal Family then it is worth jumping aboard to see the exhibits which provide an interesting insight into Diana's life and her legacy. The main event is the "Dress Room" which contains 9 of Princess Diana's gowns which are all instantly recognisable. Here you will find the beautiful floral print silk dress she wore to Australia's bicentennial celebrations in 1988, a stunning ball gown that she wore to the America's Cup Ball and a striking black and red Flamenco inspired dress. Each gown is accompanied by details of the story behind the piece.
Memorabilia
You can also see sketches of Diana's memorable gowns which have been signed by the designers, personal family photographs, the wooden bench that Charles gave Diana as a wedding present and many items relating to the wedding itself although sadly not the dress! There are also many items relating to King George, The Queen Mother and Queen Elizabeth II.
Legacy
A portion of the exhibition is dedicated to Diana's legacy including the lives of her sons. There is more significant fashion on display here including Kate Middleton's infamous transparent runway dress and a replica of the dress she wore when the announcement of her engagement to Prince William was made.
Bygone Eras
All in all there is plenty to enjoy and inspire in this exhibition and a very good cause is being supported. When visiting California the British royal family may not normally be to the forefront of your mind but then many years ago you wouldn't have expected it to become the home of the Queen Mary either. Talking of which, if you do visit the exhibition do take a tour of the ship too. It is a glorious monument to the Art Deco style and provides great insight into the lives of the well to do of the period.
Byline
Article By Sally Stacey