Whatever kind of holiday you enjoy you will probably be travelling with a few gadgets and valuables. Nobody goes anywhere these days without their mobile phone and many will have e-readers, tablets and cameras too. You will always have keys of some description with you and then there is your wallet. It is all too easy to find yourself in a situation when you don't know what to do with your possessions or find that they could get damaged but there are some nifty accessories which can really help and which won't take up too much valuable room in your luggage.
Carabiners
A Carabiner is a small metal loop with a spring loaded opening that is usually used for climbing and other activities which use rope. They are also very useful little helpers for holiday makers. Carabiners cost very little and take up no room at all and yet it is surprising how often they come in handy. When your bag or rucksack is full they are great for hanging additional items on the outside. They are also superb security devices where pickpockets are active or if you have a tendency to lose things (guess where I got the idea from!). Attach a carabiner to your keys or wallet and you won't drop them or have them whipped from your pockets.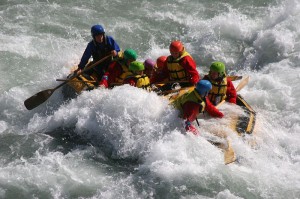 Watertight Pouches
If you are on the coast or trying your hand at white water rafting or kayaking you may want your valuables, including your phone, to be with you either because you need them or because you fear them being stolen from the car. If this is the case there is a risk of them falling into the water or being damaged by sand. The simple solution is a watertight pouch which can be sourced in various sizes from shops specialising in outdoor pursuits. It is always worth taking a couple of pouches with you wherever you go as it amazing how often they come in handy. You can even attach a float to them to prevent your valuables sinking. You wouldn't want your valuable timepiece or Versace wallet disappearing into the depths would you?
Tablets and E-readers
It is lovely to relax reading on the beach. These days that may mean that you need you e-reader and they don't like sand or water! There are special plastic pouches available which shield the devices but which still enable you to use the touch screens. You can even read safely floating on your lilo!
First Aid Kit
This might sound a bit extreme but a mini first aid kit could really help save the day. Buy or make up a kit that contains plasters, antiseptic cream, painkillers and insect repellent. You have an instant fix for any small cuts and you can avoid scratching all day because of insect bites. You may think you don't need painkillers but they can come in handy on the most unexpected occasions. I learnt my lesson when I was swimming in a remote cove in Italy and got bitten by a jellyfish.
Just a few small items that you can fit into your hand luggage could make the difference between a successful trip and a disaster. Don't travel without them or you may regret it.
Byline
Article By Sally Stacey