The Discovery Channel series Gold Rush and Gold Divers are proving to be immensely popular and that is no big surprise as the prospect of striking it rich is so alluring. Whilst most people probably don't fancy taking themselves off to Alaska for half of the year to mine for gold it is possible for anyone to do a little prospecting in America and not just for gold.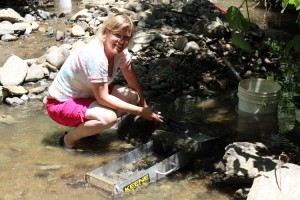 Gold Country
If you do fancy trying your hand at gold prospecting then where better than in Gold Country? This region of California is a fabulous place to visit for the magnificent scenery and outdoor life. Yosemite National Park is on the doorstep, there are many great places to fish and the summer weather is amazing. This region was at the heart of the Gold Rush in the 19th century and there is still gold to be uncovered even by those who have never tried before.
Jamestown near Sonora is an old mining community that retains its historic charm. A walk down the high street is a fascinating experience with many of the buildings dating from the Gold Rush era and here you will find Gold Prospecting Adventures. This organisation will give you the opportunity to dig for gold on their claim just outside of the town with all the necessary equipment and instruction provided. You get to keep anything you find and they guarantee you will leave with some gold if you stay for two hours or more. You are unlikely to discover enough gold to pay the fee let alone make you rich but it is wonderful and exciting day in the sunshine with the breath taking backdrop of the Sierra Nevada.
Diamonds
It is not just gold that you can dig for in the USA. The Crater of Diamonds State Park in Arkansas is the only place on the planet where the public can dig for diamonds. Here an ancient volcanic eruption brought diamonds to the surface and for a small daily fee anyone can go looking for a sparkler. All you need is a bucket, a screen and a spade and you can your own or hire what you need. There have been plenty of diamonds recovered here over the years and anything you find you can keep.
Sapphires and Rubies
Those with the gemstone bug can also seek out rubies and sapphires in Franklin, North Carolina. Franklin is the gemstone capital of America with several mines open to the public. At most of the properties the mines extract the dirt and then visitors pay to screen it for the gems but at Mason's Sapphire and Ruby Mine you can dig for yourself too. Many great stones have been uncovered and it is certainly an exciting way to spend an afternoon. You never know, you could stumble across a "bell ringer". These are gems in excess of 10 carats in weight and if one is found a bell is rung in celebration!
Digging for gold and gemstones is a great activity to incorporate into a vacation and does offer the possibility of paying for the trip! All that digging is hard work and it certainly makes you look at those diamond jewels in a new light!
Byline
Article By Sally Stacey