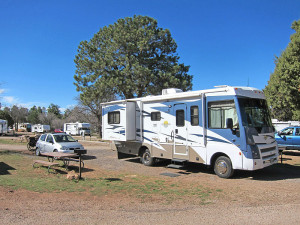 If you haven't tried a motorhome holiday then you really should. There is something unique and liberating about touring this way. It is possible to visit numerous destinations without the need to pack and unpack and lodging in a campsite puts you in the heart of the great outdoors. Driving the vehicles is surprisingly easy and you soon get used to hooking up your utilities but I do have one cautionary note. When you rent your vehicle you will be offered a variety of extras which may look appealing but which you will often find are not available when you arrive.
Optional Extras
Most rental companies have satellite dishes, patio furniture, bicycles and a variety of other extras that you can request when you book. All of these come with the proviso that you can take them when you collect your vehicle if they are available. The companies have limited stock and so you can arrive to find that the equipment you wanted is gone. If any of the things you have requested are integral to your holiday arrangements then it is wise to formulate a plan B.
The Best Laid Plans
I found out the hard way how things can go wrong. I had booked an RV for collection in Calgary, Canada and ordered four mountain bikes with it. I clearly stated on the booking form that the bikes were crucial to my trip and that if they were not to be available I needed to be told. In spite of my efforts I arrived at Cruise Canada to be told that there were no bikes. I was extremely annoyed. My friend was incandescent and proceeded to eat the sales representative alive!
Great Service
We explained that we had travelled all the way from England for a mountain biking holiday which would be difficult to enjoy without the bikes. The person we were dealing with seemed unable to offer a solution but then his supervisor stepped in and said that he was prepared to help. He then instructed us to follow him to a local retail park where we found ourselves parked outside of a bicycle shop that reminded us of one back home. A few minutes later the supervisor emerged from the shop with four brand new bicycles which he helped us secure to our RV.
Lessons Learnt
The actions of the supervisor completely restored our faith in Cruise Canada and rescued our holiday. We had a wonderful trip exploring Banff, Jasper, Yellowstone National Park and Montana and spent many happy hours on those mountain bikes. The trip would not have been the same without them and had we not received such great service we would have been faced with wasting valuable time and money looking for alternatives. I had learnt a valuable lesson though. If you book extras with your RV or car rental, don't bank on them being available and make sure that you have another way to get what you need if things don't go according to plan.
Byline
Article by Sally Stacey