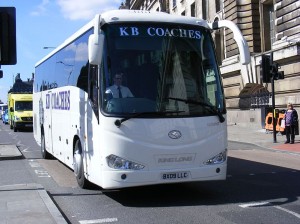 Newspapers and supplements are always full of advertisements for coach trips. The itineraries can look interesting and even exciting but I am never tempted by the prospect of one of these tours. It's not that I don't want to see the destinations because I do. It is the idea of losing my freedom that alarms me.
The Unknown
One of the great things about travel is that there are surprises around every corner. The city you thought would blow you away might leave you a little cold and the one you visited as an afterthought turns out to be right up your street. You simply don't know until you arrive which elements of your holiday will delight and so I hate the thought of a time table cat in stone. I find somewhere special I like to linger and explore not to be told I must be back on the coach by 4pm!
Flying Visits
I am not over keen on the snapshot nature of coach trips either. All of them seem planned to deliver you to a new destination every day meaning that every stop is nothing more than a flying visit. If I want to walk up a mountain in the Alps or shop for presents in a lovely village then it would frustrate me no end to find my time is up.
Rushing Past
I always laughed at that Burger King advert where the coach goes flying past the Grand Canyon with the guide yelling "big hole in the ground" before whisking the tourists off to the burger joint. I know that this is an exaggeration but in my mind it is close to the truth. I didn't realise how close until I witnessed the activity at Niagara Falls.
Niagara Falls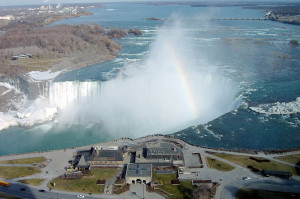 I was staying at the falls for 3 days and so had plenty of time to enjoy the falls, the local attractions and the surrounding area. On my first day I walked along the river towards the falls and stood alongside the river to take in the views. Behind me were several parking spots designated for coaches. One by one coaches would pull in, the occupants would leap out with their cameras, take some snaps and then some groups would immediately hop back onto the bus. That was it, Niagara Falls in 5 minutes! Some groups did hang around for long enough to take a ride on the Maid of the Mist but few seemed to be offered much time at the falls at all.
Conclusions
When I visit somewhere I want to be in control of what I see and how long I stay. I couldn't live with the time constraints of a coach trip and would find it upsetting to miss seeing some of the highlights. I don't think I would relish so much time on the road either. Trust me you can't do Niagara in a few minutes and you can't do Yosemite in 5 days let alone a few hours.  I actually think that coach trips are a waste of money even if you can't drive. You don't really get to experience anywhere and you would be best to stay in one place rather than get taken on a route march.
Byline
Article by Sally Stacey