The menopause will typically give a woman plenty to think about. It is the end of an era that can actually also feel like the beginning of the end and there are many inconveniences to be accommodated. These can have a serious impact on a holiday and so women of a certain age may have to carefully consider their travel plans and I should know because I am just such a woman.
Hot Flushes
The most commonly reported side effects of the menopause are hot flushes. Now you might think that these highly inconvenient episodes of feeling like you have walked into an oven might make cooler climes look attractive but believe me they don't. There is nothing worse than being drenched in sweat when everyone else is dressed for an artic expedition and so, in my opinion, a few days in the sun are ideal.
You see, if it is really hot everyone is feeling the heat and so that unfortunate red face just blends in with the crowd! Every other day of the year looking like a tomato is a bit of a giveaway but not in tropical climes. I always feel like an idiot when I have pulled out my best cashmere on a freezing day only to break out in a sweat when everyone else is shivering. At the end of the day it doesn't matter where you go you will feel hot so why not enjoy the sunshine when the opportunity arises?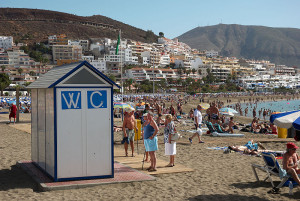 Untimely Events
So holidays are actually good news when it comes to hot flushes but an erratic menstrual cycle is quite another thing. Trust me it is not helpful when you have no idea when your period will strike. You can't book your holiday for an appropriate date and that isn't the only issue. Periods can be abnormally heavy meaning frequent trips to the toilet which is manageable when you are at home but not so easy when you are on a long haul flight and there is a long queue for the loo.
Remote beaches with no facilities are a bad idea in this regard and it can be tricky explaining to friends and family why that gorgeous isolated cove with crystal clear blue waters is not an appealing idea. You probably won't feel like launching on a long hike into the back country of a national park and that long anticipated trip to the Atacama Desert could be off the menu.
Basically anywhere with access to a toilet is good news and so even outdoor adventurers may develop a sudden desire to take a city break or a cruise! You just have to adjust to your circumstances for the duration and plan accordingly but it can all be very frustrating.
Nobody wants their holiday plans dictated by the availability of toilet facilities but it is just possible that the new demands could lead you to fabulous places that you might otherwise have overlooked. There are challenges but you have to laugh in the face of adversity and get on with it. I should mention at this point that forgetfulness can be an issue so do take care to remember where you are supposed to be going!
Byline
Article by Sally Stacey