I don't literally mean Christmas because I don't think anyone is going to move the festive season forward to accommodate me. It is the retail extravaganza that I want to arrive sooner rather than later and not because I intend to buy any presents. I need Christmas to come early, at least to the shops, because I am decorating my hallway!
Hypocrisy
Actually I feel like a giant hypocrite. I have spent years bitterly bemoaning the early arrival of Christmas merchandise in the shops as I have never approved of the way the festive season has been progressively stretched to encompass a quarter of the year. The fact that Christmas displays seem to start appearing as early as September spoils the whole event for me.  I don't want to see Santa in October and reindeer have no place on the high street when it is still warm enough to spend the day on the beach. They don't call me Scrooge for nothing!
A Change of Heart
But here's the thing. I need something that I can only get at Christmas. It might be August as I write this but I want Christmas now! I am decorating my hall (not before time) and the perfect finishing touch to the space would be some golden foliage and twigs for the large vase I now have standing in the corner of the room. I invested a wonderful piece of metallic wall art which is looking lonely and I need to accessorize with a bit of golden sparkle. The trouble is that nobody sells those lovely golden sprayed twigs and leaves in the middle of the summer. My hall is looking like an unfinished work but I am powerless to complete the project.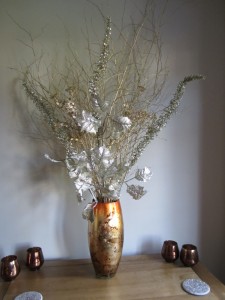 I know exactly what I want because I bought some fine examples last year from a local garden centre which boasts a particularly extravagant Christmas offering – but not in August. I created a lovely display in my living room which I wish to replicate in the hall  but right now everywhere I go all I see is plastic and silk dahlias, hydrangeas and the like which simply won't do. I don't want pretty pastels or purple I want sparkling gold and lots of it. There are a few things available online but I want to make an arrangement and despite my general aversion to Christmas I rather enjoy a rummage around that particular shop.
I have no idea when Christmas will be arriving in a riot of glitter and flashing lights. My decorations have a habit of appearing somewhat late in proceedings like Christmas Eve! However my homage to all things glittery and gold will be a permanent fixture just as soon as I can get my hands on the stuff. Until then I will have a very lonely and empty looking vase. On the other hand I have some tinsel in the loft. Perhaps not!
Article by Sally Stacey