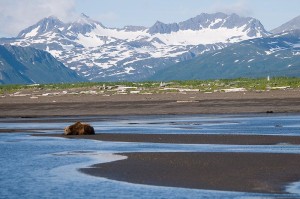 For the ultimate fishing adventure with plenty more excitement thrown in you can't do better than a stay at the stunning Kulik Lodge in Katmai National Park, Alaska. Accessible only by air this fishing lodge sits amidst some of the finest landscape on the planet in the unspoilt wilderness of the Aleutian mountain range.
Visiting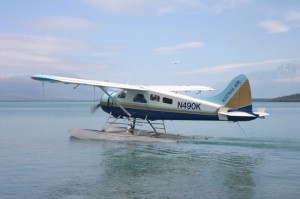 The lodge in operated by Katmailand Inc whose offices are in Anchorage. Trips of varying durations are offered and you fly in from Anchorage International airport or the tiny community of King Salmon. The flights in and out are actually one of the highlights of your trip taking you over the most incredible scenery with snow-capped peaks, volcanoes and the ocean beneath you.
The weather can be volatile on the Kenai Peninsula and so robust outdoor clothing which can be layered is a must. Take a weather proof jacket, warm fleece tops and shirts together with sturdy boots, thick socks and don't forget your swimming trunks because the lodge has hot tub. The lodge can provide you with your fishing tackle and bait. If you wish to take your own fishing tackle they recommend including a 7 weight fly rod, reel with floating line, another spool with a sink tip line and also waders.  The majority of the fishing will be with wet fly but other lures can include bright streamers, bait fish imitations and dry fly.
Accommodation
Kulik lodge offers pleasant and comfortable 2 person cabins which have toilets and showers and are heated. The main lodge features a nice dining area, bar and stone fireplace for evening gatherings. Both central lodge and cabins have wireless internet access and there is a computer for guest use if you need it.
Your Experience
Stays can be up to 7 days in duration offering the trip of a lifetime fishing in the unique and pristine wilderness of Alaska.  There are excellent fly fishing opportunities for rainbow trout close to the lodge on the Kulik River and Kulik Lake. You can also take a fly-out for an extra fee to experience hot spots selected by the staff. Here you can find arctic char, grayling, pike and 5 species of salmon. There are also float trips on offer to hidden streams where you can fish whilst grizzly bears watch on!
Your Catch
You are able to take a limited number of salmon with you when you leave but are asked to release the other species. The lodge will gut and pack your salmon for you and you can purchase the necessary insulated boxes for transit on site.
Fishing and Wildlife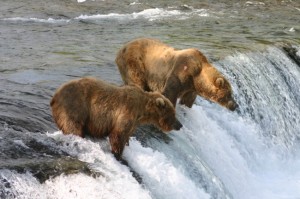 For the ultimate Alaskan adventure why not extend your trip to spend some time bear watching at Brooks Camp? Here a dense population of brown bears fish at the famous brooks falls and you will frequently see bears on the footpaths and around the cabins. An excursion to visit the Valley of the 10,000 smokes is available from Brooks Camp. If you have the time this trip is well worth taking to see the mazing volcanoes and to walk on the solidified pyroclastic flow from the 1912 eruption of Novarupta.
Experience of a lifetime
It is hard to top a visit to Katmai National Park. With first class fishing, amazing wildlife and stunning scenery it is a trip of a lifetime. Sadly it is also very costly but if you can find the money it is an experience you will treasure for ever. What are you waiting for? Pack your fishing tackle and book your trip.
Byline
Article by Sally Stacey who has visited both Kulik Lodge and Brooks Camp