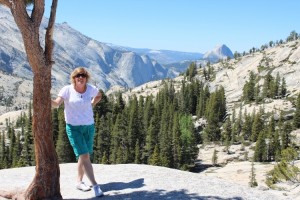 Yosemite National Park attracts millions of visitors each year and is surely one of the most beautiful places on Earth. Sadly, though, most tourists confine themselves to Yosemite Valley and the immediate surrounds and so miss some of the park's greatest wonders. If you are touring the region it is well worth venturing beyond the valley floor to explore the Tioga Road, a pass which runs west to east across the centre of the park.
The Tioga Road opens around the beginning of June each year after the snow had melted and the route has been cleared of debris. It is over 60 miles long and there is so much to enjoy that one day simply is not enough to take everything in. There are many fine walking trails to take on, a sequoia grove and high altitude meadows teaming with wildlife.
The Route
My first expedition along the road had not been planned. I was staying in Mammoth Lakes but had been unimpressed and so drove up to the pass in search of something more exciting. From the outset it was obvious that I had found somewhere really special. From the east the road climbs sharply into the rugged peaks before reaching the Tuolumne Meadows. Around this area there were several walking trails and I decided to head for the route up to Cathedral Lakes.
Lost in the Wilderness
The trail was beautiful taking me through pristine forests and past canyons with fast flowing rapids but it wasn't long before I hit trouble. The winter snow had not finished melting and the path at higher elevations was completely obscured by the snow. Soon I couldn't follow the trail and shortly after that I realised I was lost. At one point I took a step forward only to plunge through the snow and pile of fallen branches into a deep hollow. Standing with snow up to my waist it felt like it was time to find an escape route. My feet were not sodden as even my sturdy footwear couldn't cope with 3 feet of snow. I eventually found my way out by reviewing my own video footage to find landmarks to head for.
Olmsted and Tenaya
A little rattled by managing to get lost in the wilderness I returned to my car and continued down the road to the magnificent Olmsted Point which affords amazing views across Yosemite with the iconic Half Dome clearly visible in the distance. Farther along the route I found my favourite place of all, Tenaya Lake. This is a location of such beauty and serenity that it was the inspiration for a return visit to the region.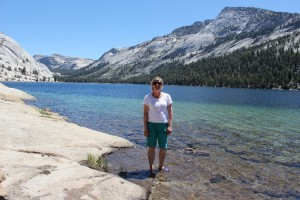 Back Again
My second foray along the Tioga road some years later was free of snow and this time Tenaya Lake was even more spectacular. I spent two happy days exploring the area, wading through pristine mountain streams and wandering along the shore line. Here sitting quietly by a river I was visited by a coyote who seemed as surprised to see me as I was to see him. What a magical place!
After two visits and a total of four days spent on the Tioga Road there are still many features I have yet to explore. I can't wait for my next adventure!
Byline
Article By Sally Stacey