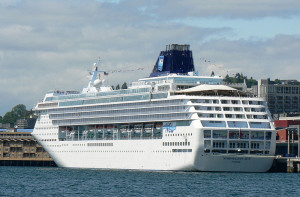 I love travelling and have an earnest desire to see as many places as possible before I pop my clogs. I also embrace many different destinations and types of holiday but there is one form of international travel that I simply can't stand the thought of and that is a cruise! Cruising is more popular than ever but not in my household. To me a cruise ship is a floating prison and you won't catch me booking a trip any time soon.
Popular Choice
Once the preserve of the rich and famous, cruises are now accessible to all with even people of relatively limited means reaching for the cocktail dresses and cashmere before taking to the seas. I am more likely to grab my hiking gear before I leave for a holiday and here is a clue to my problem with cruising. I like independent travel and the great outdoors not overeating in a floating restaurant before watching the evening's theatrical production. I like deciding for myself what places to visit each day and how long to stay there and I don't do guided tours!
Time Restraints
I can't imagine anything worse than arriving at a stellar destination like Venice or Dubrovnik only to be told I have to be back on the ship by 4pm and then having to queue to get off it in the first place. I would never take a coach tour for the same reason. I like to explore and if I need more time to enjoy a destination it would infuriate me to have to leave.
Alaska
I think I really became aware of the issues with cruising when I was in Alaska. Cruises up the Inside Passage (why does that always sound so rude?) are hugely popular and I am sure the scenery is spectacular. Having explored the state in some depth, however, I had discovered that the best attractions were largely not those you could visit in a few hours when you jump ship for the day and that the cruise passengers were missing almost all of the real highlights. Whilst they sailed serenely up the back passage, I mean inside passage, the wonders of Katmai National Park, the Denali Highway and the Hatcher Pass were left undiscovered.
Sense of Adventure
I think cruise passengers are an unadventurous lot anyway! In the Alaskan capital Juneau there is a spectacular glacier to explore and a great cable car trip up into the mountains. Before setting off for an adventure one morning I was passing through the town as a cruise ship was disgorging its passengers onto the quay. Far from making for said glacier or cable car service, the majority of the tourists were heading straight for the expensive jewellery shops on the water front and when I came back down the mountain later in the day most of them still appeared to be in the shops. I had seen amazing views, spectacular wildlife and fascinating flora, they had seen some gold rings and necklaces which they frankly could have found anywhere.
Choices
Each to his own I suppose but I don't see the point of visiting a destination at great expense if you are not going to see it. This planet has an embarrassment of riches but most of them are not to be found on a ship!
Byline
Article by Sally Stacey