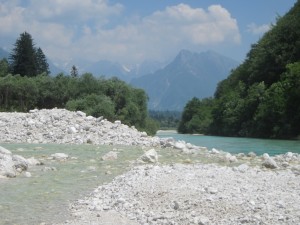 The Julian Alps of Slovenia are the perfect destination for anyone who relishes time in the great outdoors. The scenery is stunning with the majestic peaks dissected by the shimmering blue threads of pristine alpine rivers. The region is the perfect place to go hiking and also boasts the opportunity to participate in several exciting activities courtesy of the local sports agencies which cater for experts and beginners in white water rafting, kayaking, quad biking and Horse Riding.
Soča Valley
Alpin Action, based in Trnovo in the stunning Soča Valley, offer horse riding expeditions of various durations and cater for all levels of ability. The tours are guided by local expert Matej using his own stock and are an absolute delight. On a recent trip to the area I booked a full day excursion with Matej and it was a simply amazing day.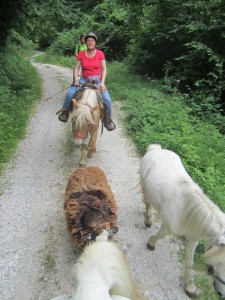 The Sheep
The trip started in the small village of Sedlo where Matej lives and keeps his horses. We led our mounts out of their paddock and saddled up in a country lane before heading off into the forest. My partner and I were both very surprised to find that as we set off Matej's pet sheep and a small pony started to follow us. We enquired as to how far along the trip they would come and Matej just shrugged his shoulders!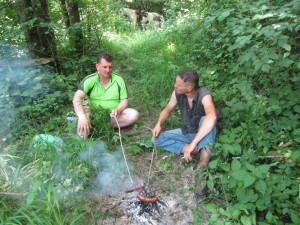 Camp Fire
Our journey took as through gorgeous woodland in the foothills of the Julian Alps, crossing small streams and occasionally affording glimpses of the tall peaks further down the valley. We passed through a couple of picturesque villages before arriving alongside a crystal clear river where we stopped for lunch. Whilst Matej was establishing a fire and cooking sausages from a local farm, we took a swim in the gorgeous river, which was so cold a lifejacket and a defibrilator might have been a good idea! We were amazed that the sheep and pony were still with us and seemed to be enjoying the trip immensely! After gorging on the sausages and fresh bread we remounted and proceeded to travel through yet more amazing scenery with the sheep seemingly anxious to stay with us.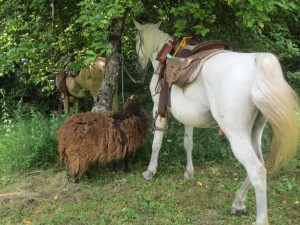 Mid-afternoon it was time to make another stop, this time in a pretty little cafe/bar in the valley. The horses and the sheep seemed content to wait for us in an adjacent meadow and after a short break we made the turn for home passing through primeval forests as we made our way up the hillside and back to Sedlo. The sheep had pony had stuck with us and made it all the way home. Matej informed us that we had travelled 28 kilometres. That was some sheep!
Heading Home
After the horses had been returned to our paddock Matej invited us into his home where we were able to sample his excellent homemade schnapps and salami and were presented with a large salami to take with us. Matej had proved to be a first class guide and great company. He is an expert horseman who has spent time in Montana as a cowboy and has many interesting stories to tell.
If you are in Slovenia and fancy some riding contact Alpin Action to book a trip with Matej. The tours are tailored to the ability of the riders, the horse are well behaved and perfect for beginners and all you need is a pair of long trousers or jeans and some decent footwear like walking boots or trainers. Riding with Matej is a trip you will never forget and that sheep is incredible!
Article By Sally stacey