Travelling the Alaskan Interior is a real thrill. This truly is the last frontier and there is a wild and remote feel to every region which I simply haven't experienced anywhere else. There is something amazing around every corner and when I toured the state I was constantly marvelling at how different life is for the people of the remote communities that I visited. This was certainly the case in Chitina, an isolated outpost in the Wrangell St Elias National Park.
I had just spent three days on the magnificent Denali Highway and was heading back to Anchorage with great regret. I was stopping overnight en route and so had the time to take a quick look at Wrangell St Elias. There are only two roads into the park and very little sign of civilisation. I didn't have the time to fully explore Wrangell St Elias and much of the park is inaccessible by road so I had to confine myself to investigating the stretch of paved road close to the entrance to this vast wilderness.
I found a wonderful waterfall and spent the morning happily clambering over rocks and exploring around the falls before returning to the car because I wanted to venture onwards to Chitina, the only settlement in the park. Chitina is some 70 miles from the entrance but I wanted to make the journey as I had heard that there was an interesting establishment there called the It'll Do Café!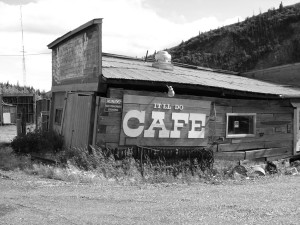 I eventually rolled into Chitina which turned out to be a ramshackle collection of wooden buildings which all looked as if they had seen better days. The most dilapidated structure was the café itself which looked like it wouldn't do much at all for very long and appeared to be on the verge of collapse. Sadly it was also closed but I stood outside marvelling at how it was still standing.  It was in the sort of condition that no amount of nails and roofing products could have fixed and one day soon it was clearly going to fold up like a pack of cards.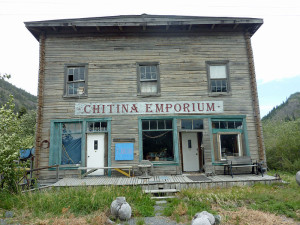 I eventually roused myself into wandering across the track to what appeared to be a shop. It seemed a rather poor place to establish a retail business given the very limited number of visitors who ever found their way to Chitina. Peering through the window I could see an assortment of old china, potpourri and various other curiosities and I thought I had entered a time warp and had been transported to 19th century Europe. What a bizarre place to try to sell frilly accessories for the home! It all smacked of Miss Havisham's house in Great Expectations. The shop was open and so I ambled in to find that the owner was an English Woman which really was curious. I felt like I was in one of those movies where people get zapped to an alternative reality.
Eventually it was time to leave and I jumped back into the car contemplating what I had seen. I couldn't understand how any business survived in such a place and perhaps the It'll Do Café was closed permanently due to lack of custom.  I had been there for two hours and had not seen another traveller. I will always remember by brief excursion to the place that time and the rest of civilisation had forgotten.
Byline
Article by Sally Stacey