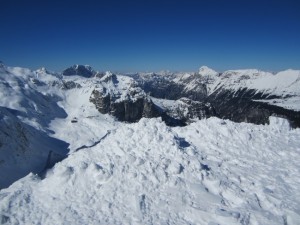 If you enjoy a good skiing holiday but are tired of crowded resorts and interminable queues for the lifts then the Italian resorts of Tarvisio and Sella Nevea could be worth considering. The two towns are just a 30 minute drive apart and so can be experienced in the same trip and both are close to the Slovenian border allowing access to both Kranjska Gora and Kanin.
Sella Nevea
This is a slightly strange destination in that it has little town to speak of at the bottom of the slopes and so is not a great choice for those wanting a vibrant night life. Sella Nevea was earmarked for big development during the 1970's but fears over the threat of avalanches halted proceedings and the lift operator subsequently went bust! Years on safety measures have been completed to prevent avalanches and the lift system is operated by a state owned company and so the resort runs smoothly but the "town" consists only of a couple of hotels and parking facilities. Whilst the built up area is not particularly attractive the scenery is wonderful and the resort can be accessed from Klagenfurt, Ljubljana, Treviso and Venice airports.
The slopes are impressive as Sella Nevea has an excellent range of runs catering well for beginner and intermediate skiers, very reasonable lift passes and quiet  pistes. You will almost never have to queue for a lift here! Best of all the resort is connected by a new chairlift to the neighbouring Kanin ski centre in Slovenia giving an even greater choice of runs and views from the Slovenian side all the way the Adriatic.
Tarvisio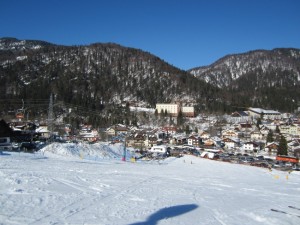 Tarvisio is a larger and better known resort with an excellent range of pistes to suit all abilities. Despite the great skiing area and being host to World Cup events the resort is still relatively quiet and so you can ski unimpeded and experience no queues for the lifts. Weekdays can be very quiet and you may find that you have a run almost to yourself! There are 10 lifts, 19 pistes and an impressive vertical descent of 1030 metres on offer and the opportunity to ski in Sella Nevea and even Kranjska Gora in Slovenia.
Conclusions
Neither resort is exactly a great centre for night life but both have good ski schools, equipment hire and shops to fulfil all your needs from children's footwear to the latest ski apparel. If your focus is the skiing and getting as many runs in as possible then both are great choices with the added advantage of being considerably cheaper than most European resorts. With 6 day lift passes currently just £130 you get a lot of skiing for your money!
Article By Sally Stacey