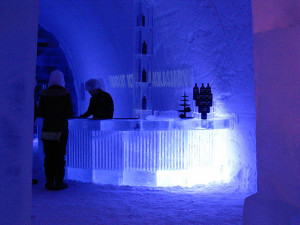 If you're looking for a holiday with a difference, forget about the luxury hotels in the Caribbean or a villa on your own private island. Scandinavia is big news at the moment with TV dramas like The Killing attracting record viewing figures for a foreign language television series, and although most tourists heading north for their holidays stick to the summer months, the best time to go is in winter, when you have the opportunity to visit one of the incredible ice hotels that are created each autumn.
 Accommodation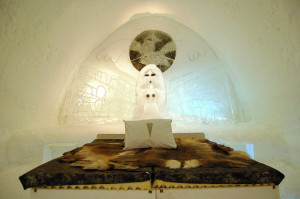 A stay at an ice hotel is not like a stay in any normal hotel, oh no. If you're used to king sized beds with Egyptian cotton sheets, a fully stocked mini-bar and comfortable furniture, you're in for a big surprise. Ice hotels tend  Ice hotels tend to vary in their set up, but in most cases you will find yourself sleeping on a basic slab of ice in place of a bed, covered in furs and cosy sleeping bags. The world's largest ice hotel, located in northern Sweden, features intricately carved ice patterns on the walls and art work from various local artists as well as traditional Scandi homeware. The temperature in the ice hotel is between -5 and -8C, but there are warm areas of the hotel too where you can have breakfast and warm up in the sauna.
Construction
During the warmer months the ice hotel melts away, so construction starts afresh each year in the late autumn when the temperature begins to drop. Because the hotel rooms are built from scratch each year, the design will vary from year to year so repeat visitors are guaranteed a different experience each time. The concept of staying in an ice hotel is growing in popularity, so as well as the original ice hotels in Sweden, there are similar places starting to emerge in Denmark, Romania, Finland and Norway.
Getting There
It's not always easy to get to the ice hotels as their location is usually remote. There are few direct flights from the UK, so the two main options are flying to Stockholm and hiring a car to make the long drive north, or taking a connecting flight from one of the hub airports in Scandinavia. Staying in an ice hotel is popular and something many people long to experience. As it can be at the top of some people's list of things to do, it is essential to book as far in advance as you can to ensure you get the dates you want.
Excursions and Options
Many operators of ice hotels recognise that not everyone wants to spend nights on end sleeping in sub-zero conditions, so offer packages which include one night in the ice hotel, and a few other nights in more traditional accommodation with all the mod cons you would expect from a regular hotel or holiday let. As the ice hotels are so far north in many cases, there is the opportunity to take part in excursions to see the local wildlife or the Northern Lights, and experience husky sledge rides or snowmobile riding through the winter landscapes. Then before you retreat to your ice room to snuggle under your reindeer skin throws, take time to have a drink in the ice bar.