Bryce Canyon National Park in Utah receives relatively few visitors annually, possibly due to its comparatively remote location. It is a shame that more people don't find their way to Bryce as it is a stunningly beautiful area to explore and quite unlike anywhere else I have seen. I have visited the park twice and would love find myself there again one day. It is one of those places that look like they merit only a short trip but just continue to reveal new wonders and places to explore.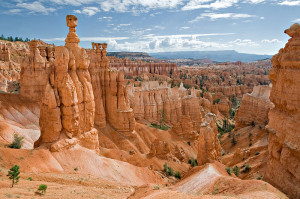 Geology
Bryce isn't actually a canyon at all but rather a series of natural amphitheatres along the side of a plateau. The amphitheatres are packed with striking columns of rock called hoodoos which are the result of the erosion of the sedimentary rock. They are burnt orange in colour and make for an incredible vista. There are numerous trails to explore with the majority being easily navigated in less than a day and each taking you into the midst of the rock formations.
Cowboys
Nearby at Ruby's Inn there is lodging close to the entrance of the park. On my first visit to Bryce I was staying at Ruby's RV Park and absolutely loved the place. There was a real sense of the old Wild West and indeed the Outlaw Trail of Butch Cassidy fame is not so far away. The reception area of the Inn always seemed have cowboys passing through it wearing their chaps and spurs and looking ready for action. These guys were actually the guides for the horse riding trips but they may well have been genuine cowboys when they weren't looking after the tourists. I like to think so anyway!
Indians
One evening I decided that it was time to wash some clothes and so I headed off to the laundry at the site. As I approached the building I was surprised to see a Red Indian on horseback and in full battle dress hiding behind the laundry. He bid me a good evening and I couldn't resist asking what he was doing there. He was clearly a genuine native Paiute but I felt it unlikely that there would be a battle at Ruby's. He explained that he was going to "attack" a chuck wagon of tourists which would be passing soon. The inn offered these trips which climaxed in a barbecue and his job was to add to the Wild West ambiance by launching an offensive waving his spear. He went on to explain that he was indeed a Paiute Indian and that the battle dress was no hired costume but had rather been handmade by himself in the traditional way. He did assure me that these days his people got on fine with the cowboys and he had me laughing all the way to the washing machines.
I was enchanted by the Indian and meeting him was the highlight of a wonderful trip. I know the Wild West is a thing of the past but the Bryce area just oozes with the history of the era and Ruby's Inn do a fine job of bringing it all to life once more.
Byline
Article by Sally Stacey