I still smile when I think of my first visit to Death Valley. Just the name was enough to intimidate me and I was well aware of the place's reputation for extreme temperatures and all the dangers they bring. With visions of an early death from dehydration in the desert I set off from Las Vegas with the aim of seeing Death Valley in a day. It was an ambitious plan to say the least as the valley covers some 3000 square miles but with little traffic on the roads a tour of the highlights appeared possible.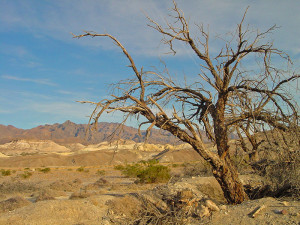 Another World
I don't really know what I was expecting but when I finally arrived at the national park I felt like I had been transported to another planet. The landscape looked like something out of a science fiction movie, as indeed it is – the region has been a filming location on many occasions. I drove through the park for a few miles and then decided to stop for a bit. Getting out of the car was like opening an oven door. There was an intense dry heat that seemed to sap my energy immediately. Walking very far from my vehicle was clearly not an option. There was also an eerie silence and total absence of breeze which was quite disconcerting.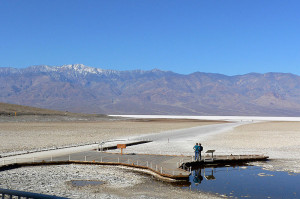 Badwater
Feeling that my tires may be about to melt into the tarmac I continued on to Badwater, the lowest place in the Western Hemisphere. The name implied the presence of water and indeed there was some but it was just a very salty puddle near the road surrounded by thousands of miles of arid desert. I looked up at the mountains which rise up above Badwater to see a sign indicating sea level which seemed inconceivably high above me. Badwater is 282ft below sea level and it was like standing in a cauldron. It was tempting to take a walk out onto the salt lakes beyond but after just a few yards I realised that I was likely not to survive the excursion and returned to the car.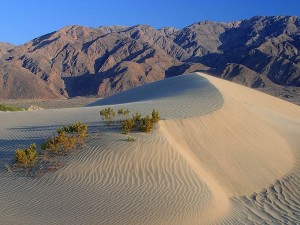 Furnace Creek
My next stop was the appropriately named Furnace Creek, a small community in the heart of the valley. Just the act of walking from the car park to the saloon was enough to leave me gasping and I was astonished to see that there was a golf course there. With every piece of metal burning to the touch and the roofing products on one of the buildings melting before my eyes I beat a hasty retreat to the saloon and virtually begged for some cold refreshment.
The Dunes
Suitably refreshed I drove north to an area of sand dunes. The child in me had always wanted to see deserts like the ones in the movies and I risked taking some time to wade across the sand which quickly began to burn my feet and sap my energy. Everything in Death Valley is burning hot! I could only manage a few minutes out there before I had to seek the comfort of my air conditioning.
I did manage to cover a lot of ground in one day and saw many different features and landscapes all of which were spectacular and quite unlike anything I had seen before. It was well worth visiting Death Valley even if it was only for one day but it is place where extreme caution and a reliable vehicle are required.
Byline
Article by Sally Stacey