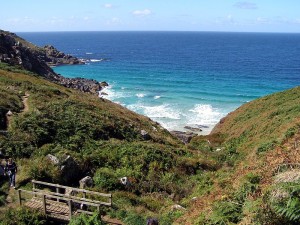 Cornwall is one of England's most beautiful counties and has been a destination of choice for holidaymakers for many years due to its climate and spectacular scenery. Increasingly though it's not just the holidaymakers and the retired people who are moving to Cornwall in search of a quieter way of life, it's young professionals and families with children who are realising that the internet and other technologies mean that they can work just as efficiently in Cornwall as anywhere else in the UK.
Broadband
There has been considerable investment in the technological infrastructure in Cornwall, and super fast broadband is now making working at home a real possibility for many workers. Creative industries such as advertising or graphic design have found that the majority of their business is done by phone and email, and that they can work just as efficiently in Padstow as they can in Paddington. The relaxing way of life in Cornwall means that staff are happier too, and investment is brought into the rural economy.
Arts and Crafts
There has always been a thriving arts scene in Cornwall, with St Ives being home to the Tate Gallery and painters from around the world coming to experience the coastline and the great quality of light. Many other craft companies are setting up home in Cornwall, and an efficient postal and parcel delivery network means it is easy to send parcels across the world. Companies like Cornish Balms and Crafts which make natural skincare or St Justin pewter jewellery make their products in Cornwall and then ship globally. Cornwall has a thriving gift shop and craft fair industry, and not just in the summer months. Setting up a simple website will also open up your Cornish business to a global audience.
Grants and Assistance
Both local and national government are keen to drive investment into Cornwall, and specifically investment aimed at creating jobs and keeping skilled workers in the area. There are many different grants to encourage businesses to relocate from other areas of the country or to start up in Cornwall, and this help can be of huge benefit to entrepreneurs who have no experience in setting up a company. A small company starting up a woodworking or joinery business may get help in paying rent on business premises, assistance in recruiting staff and help with issues such as accounting and tax. They will also find that there are skilled workers and good Cornish tool shops on their doorstep, giving them everything they need to run a successful business in the county.
Quality of Life
Of course the main reason anyone moves to Cornwall is because of the quality of life, and it's important to remember this instead of getting caught up in constant working and setting up a new business. Those setting up a crafts business will find the landscape is an inspiration, and there are plenty of opportunities for networking and sharing tips with other small business people in the same situation.