Few people can resist the allure of a beautiful diamond and these wonderful gems are, after all, a girl's best friend. Diamonds are fascinating natural wonders but sadly it isn't possible to visit working mines to see the stones being recovered. There are, however, some great destinations for diamond lovers to visit and here are my tops picks.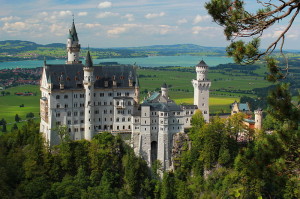 The Romantic Road
The stunning Romantic Road in Germany is a route between Würzburg and Füssen that takes you through historic towns, gorgeous villages and the wonderful scenery of Bavaria. There is plenty to take in en route but diamond lovers should certainly make a stop in the town of Nördlingen. The picturesque town is situated inside a huge crater in the earth's surface which was thought to be of volcanic origin but which has now been discovered to be the result of an asteroid strike. The massive impact of the asteroid caused geological changes including the formation of millions of diamonds. Many of the buildings in the town are constructed from local stone and sparkle with lustre of tiny diamonds in their walls.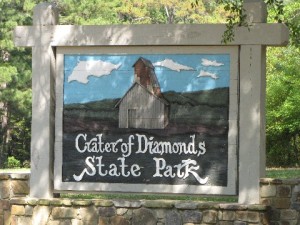 The Crater of Diamonds State Park
Whilst it is not possible to visit working diamond mines you can dig for your own diamonds in the Crater of Diamonds Sate Park in Arkansas. The park is open to the public every day and all you need is your bucket and spade. You can dig on site for the sparklers and anything you find you can keep. Over 75,000 gems have been recovered from the park over the years including the "Uncle Sam Diamond" which was the largest ever to be found in North America. Most of the diamonds are too small to be cut but every so often a really special gem is discovered and the next time it could be you that finds it!
Tiffany's New York
New York is one of the world's favourite tourist destinations and there is plenty there to keep you busy but one place you should certainly make time for is Tiffany's on 5th Avenue. Tiffany & Co are synonymous with fine jewellery and design and have been producing some of the most wonderful pieces on the planet for 175 years. The flagship New York store is a wonder to behold from the stunning architecture of the building and the imposing entrance to the stand out collections inside. In truth much of the jewellery is well beyond the budget of mere mortals but it is always nice to dream and this is definitely the place to do it. Visitors are welcome but you will be constantly under the eye of security as you walk around the glass cases packed full of those gorgeous diamonds.
These are three great destinations for anyone who love sparklers and can be easily incorporated into a wonderful trip. From diamond encrusted walls to fine jewellery and from Art Deco masterpieces to getting down and dirty with a shovel, there is something here for everyone to enjoy and you don't need a fortune to enjoy these destinations!
Byline
Article by Sally Stacey