Personally I would never choose a holiday destination for the shopping opportunities there, neither would I travel specifically to shop. However, I do enjoy the occasional bout of retail therapy but only if what is on offer is materially different to what I can find on the high street at home. I often laugh when I read articles about great shopping destinations as having visited many of the perennial favourites like New York, I know only too well that you won't find anything different there at all.
New York and Las Vegas
New York is actually a very expensive place to shop in my experience and not very interesting either. If you want to shop for the overall experience then Las Vegas is a much better choice with the delights of The Forum Shops on offer. That is quite the most spectacular mall I have ever seen and worth visiting even if you have nothing to buy. Indeed having no shopping to do is the best state of affairs as the outlets there are largely costly designer boutiques.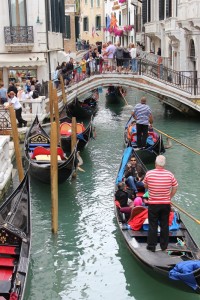 Beyond the Canals
Having said all this there is one place where I find the shops truly compelling and where I am quite happy to spend an entire day and all of my available cash. That place is Venice. Venice is probably not at the top of most shoppers' hit lists but it really should be!
Shopping in Venice
Venice is an absolute delight to visit and totally unique. The beautiful architecture and the canals are enough of a diversion but if you have the time then the place is a shoppers' paradise too. Due to the historic nature of the city is it blissfully free of large stores and features few of the big chains. This situation leaves the visitor with many narrow alleys to explore that are packed with small independents selling objects d'art, jewellery, clothes and footwear that you really don't stumble across everywhere. Much of the merchandise is Italian and so incredibly stylish and the prices seem surprisingly reasonable.
Italian Footwear
The last time I was in Venice I was initially transfixed by the array of stunning Murano glass. This is very costly and I didn't relish the thought of trying to get anything home on the plane in one piece! I am sure that my bank manager will be eternally grateful that I chose to walk away from that Glass! The footwear was another matter though! The shops were packed full of gorgeous boots and shoes in fabulous leathers and with the flair and individuality that you may only find in Italy. I hadn't realised how many beautiful shoes you could get your hands on without spending the earth.
Since my return I have become a complete convert to Italian shoes. Now I know some of the makers' names it is possible to source good styles online, even from UK based retailers.  It has to be said that the shopping experience doesn't match up to the atmospheric streets of Venice but I can live with it between trips.
Article by Sally Stacey